5th Extension to the European Union Court of Justice at Kirchberg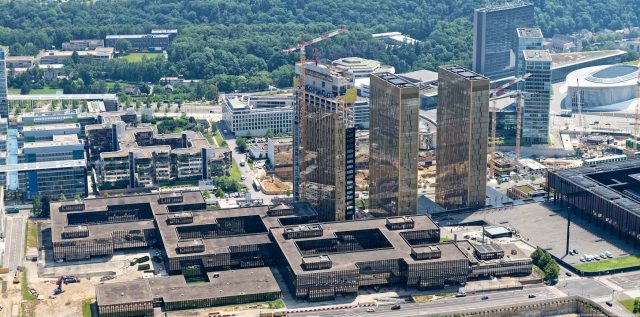 Description PROJECT MANAGEMENT
Construction of a third office tower for the European Court of Justice as prolongation of the two existing towers on the site of the current Rue Hammes and the extension of the existing car parks (210 spaces). These works form part of the new layout of the Kirchberg district and respond to the desire of the European Court of Justice to bring all of its personnel together on one site. The tower will comprise 30 floors plus two basement levels.
Transformation works on the existing building of the European Court of Justice are also scheduled at different stages of the programme.
Location Kirchberg - Luxembourg
Client Public Buildings Administration
Architects Dominique Perrault
Gross surface area 56.000 m²
Surface hors-sol brute 42.600 m²
Volume hors œuvre brut 220.000 m³
Cost 100 Mio €
Start of service provision 2015
End of service provision Scheduled for 2019
Mission General advice and assistance / coordination and monitoring of all participants / assistance in programming / monitoring of permit procedures / coordination of project management / calls for tender procedure and follow-up / analysis of tenders and adjudication monitoring / organisation of study and execution meetings / drawing up and follow-up of schedules / drawing up of progress reports / financial and budget monitoring / organisation and assistance at reception of works.